An overview on the DJI Phantom Plus
I am very glad to publish the following article by Ben Stuart, Webmaster of Ready Quadcopters. Make sure you pay a visit to this beautiful and informative web site by clicking the logo below!

################################################
The DJI Phantom 2 Vision Plus is a fantastic machine. Whether you are looking to get into photography or just looking to fly something awesome, then this is the machine for you! It's great for beginners as well as advanced flyers, just make sure you are someplace that won't hurt anyone.
While this machine is very cool, we highly recommend you start with something smaller like the Hubsan X4 when learning how to orient yourself with a quadcopter. Even if you have flown model airplanes before, this is something completely different. The Hubsan X4 will give you a cheap flying lesson so you don't have to experiment on your $1200 DJI Phantom 2 Vision Plus.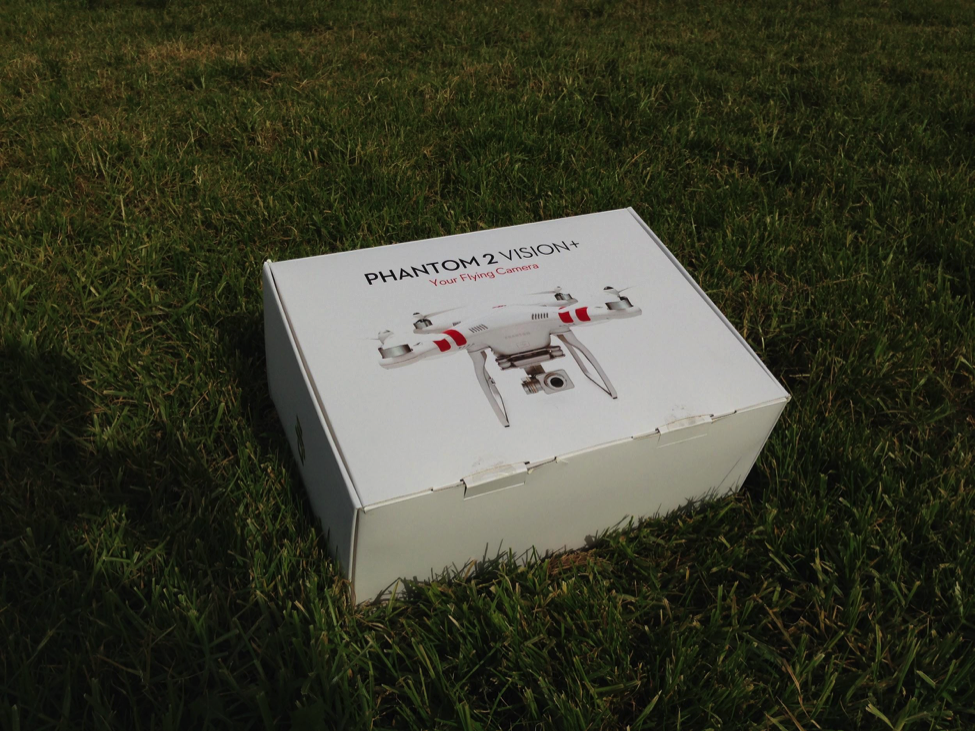 We wanted to give you a good overview of what is in the box with your new DJI Phantom 2 Vision Plus so you can see exactly what you will get. We wanted to give you a good overview of what is in the box with your new DJI Phantom 2 Vision Plus so you can see exactly what you will get.
The packaging is great, reminds us of the packaging you might get with an iPhone.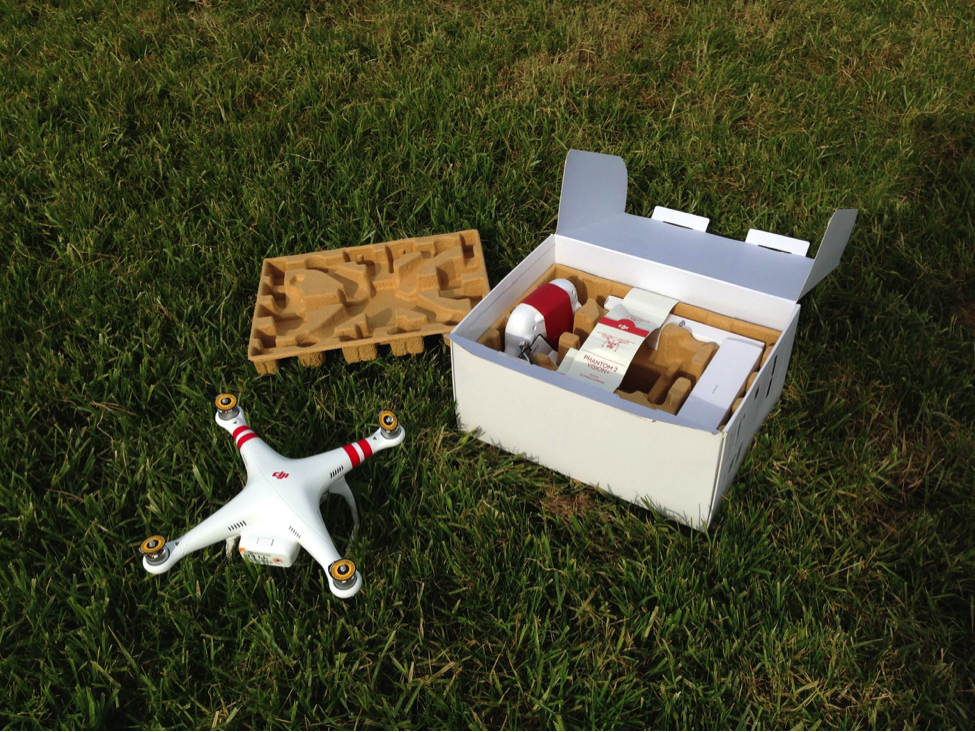 Put the batteries that come with it into your controller.
Everything you need is in the box! The only other piece you will need will be an iOs or Android device with the DJI Phantom 2 Vision Plus app downloaded so you can connect to your Phantom.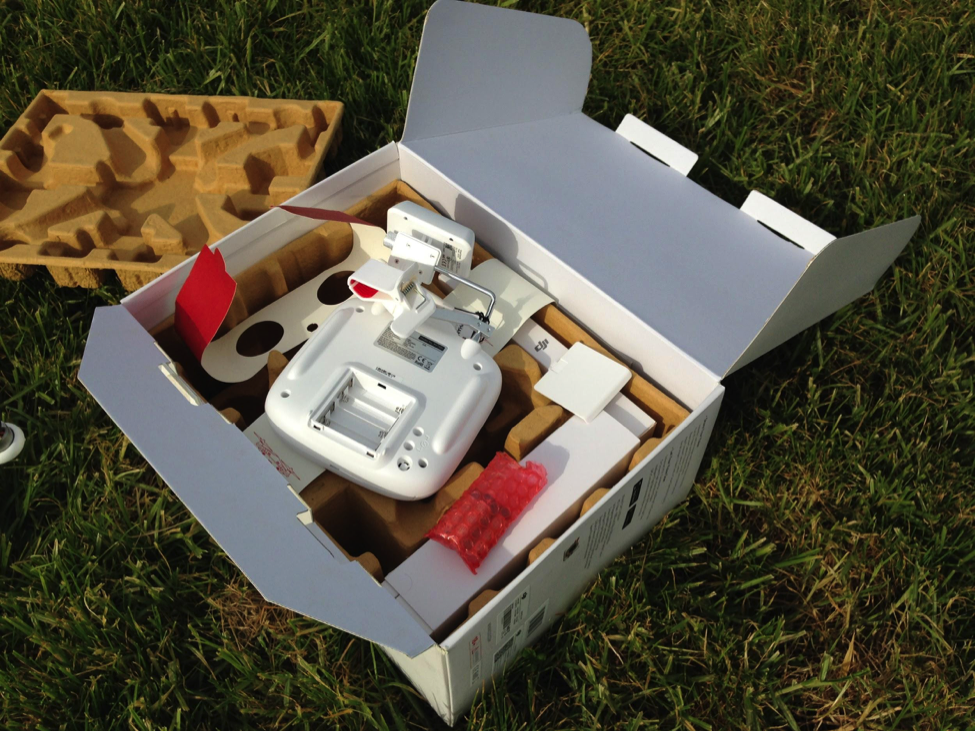 Before you take the Phantom out to where you are going to fly, make sure to charge up the battery. There is this handy quick guide that comes with the Phantom that is recommended to follow. The great thing about the DJI Phantom 2 Vision Plus is that it is pretty easy to fly once you have everything together. First go ahead and put the propellers on and make sure you have them in the right places. Opposite corners spin in the same direction and there will be a little image that shows you which one goes where. Each propeller will have a different color on it as well with either a black or silver top. After you have put on the propellers make sure to take off the protective cover on the camera and gimbal. Follow the instructions on turning the quadcopter on.
When starting out MAKE SURE YOU CALIBRATE THE COMPASS. This is very important and will help prevent any sort of fly aways. After your phantom is on go ahead and turn on your iPhone and connect to the "DJI Phantom" wifi signal. Once you've done that go ahead and open the special DJI Phantom App on your phone. Make sure that there are more than 3 satellites for the GPS coordination. This is a very important side note as you don't want to risk flying this thing manually if you can avoid it. Having proper satellite connection will make sure this doesn't happen. It also make sure that if you fly out of range that the "return to home" feature where the DJI Phantom 2 drone automatically flies back to where you took off, will work properly.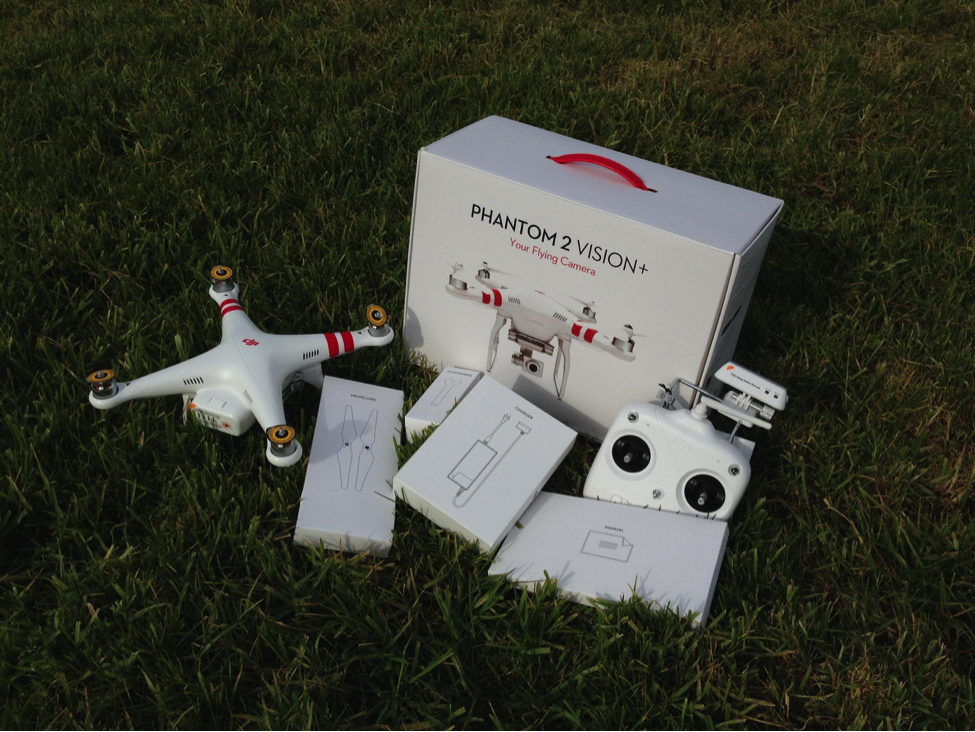 Once you have properly calibrated everything, you can see more than 3 satellites, then you are ready for lift off! Pull both joysticks down and to the middle to start up the motors. Push up on the left joystick and watch your drone take off! Make sure you get it up in the air, don't be scared to really get it up quickly to avoid tipping over and damaging the rotors.
Once you get it in the air you will see how truly amazing this quadcopter is! It is so fun to fly and really really easy compared to something more manual like the Hubsan X4. It truly is awesome with the GPS assist and the ability for the drone to just hover where you want while you take pictures.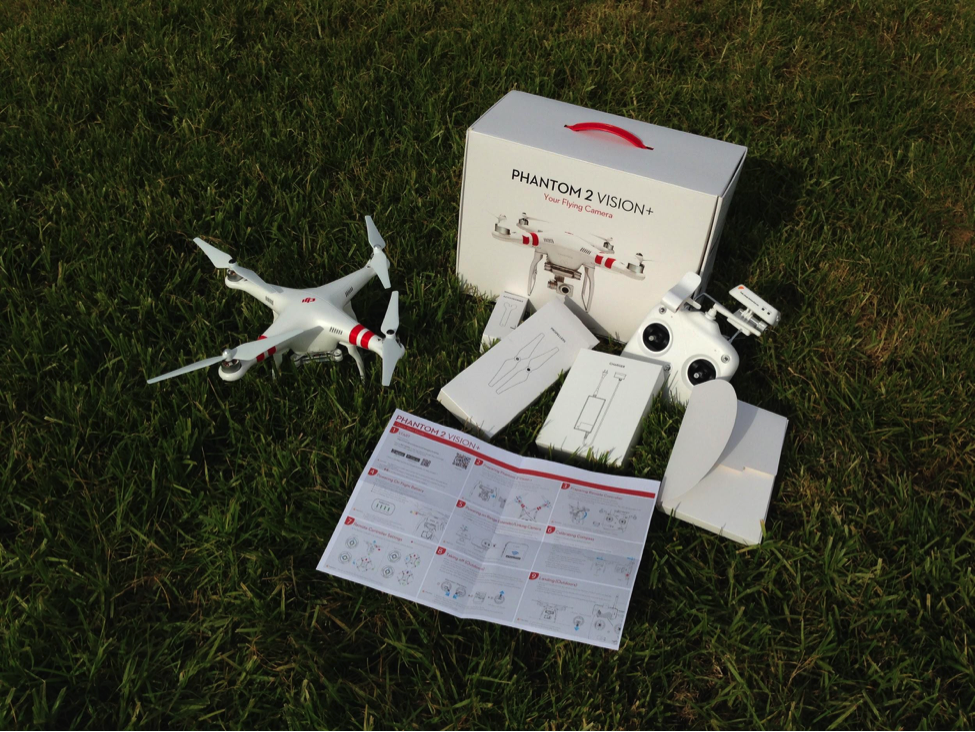 After you take off you have around 25 minutes of flight time so have fun! It takes surprisingly good pictures and videos and the best part is that everything is controlled right from the App. With the GPS stabilization you are able to just put your Phantom wherever you want up in the sky and then look at the app and take pictures. It really is an all in one system out of the box that works exactly like it is supposed to.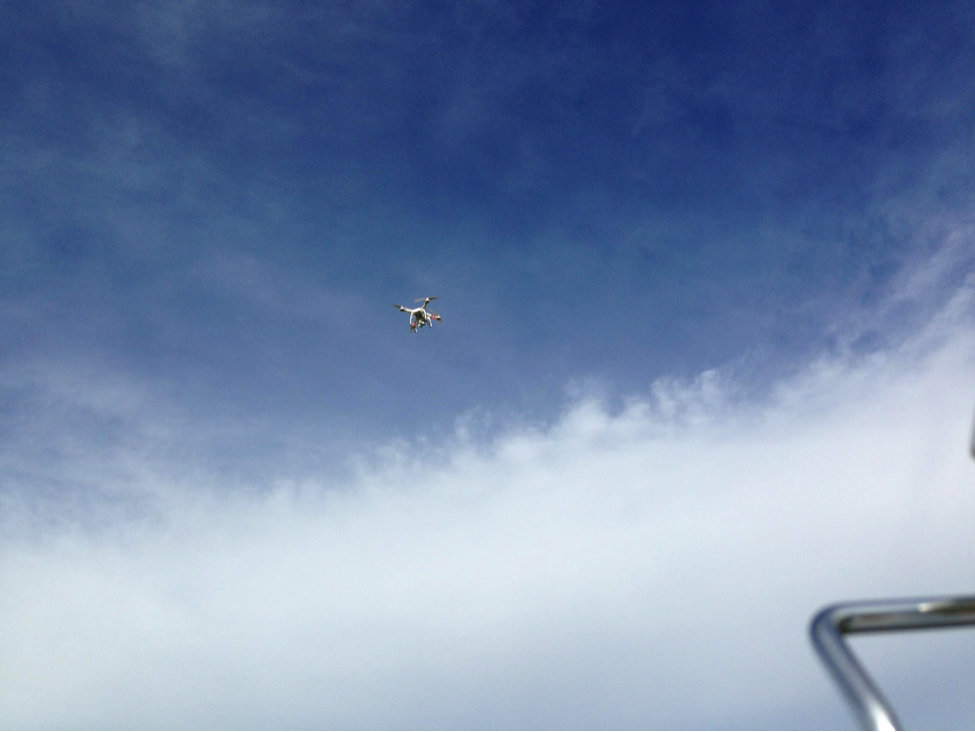 Make sure you fly safely and always keep an eye out where your drone is in the sky. If you do end up losing it just go ahead and turn off your controller and the DJI will fly 60ft above where you took off from and come and land within a few feet of where you launched. Try to always know the orientation of the drone so you don't have to do this!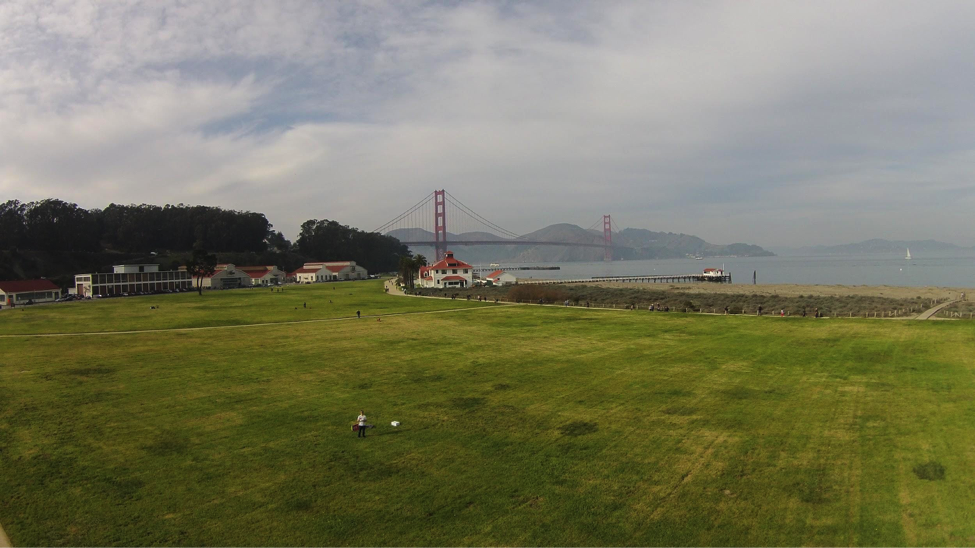 Overall this is one slick machine. I highly highly recommend it for anyone who is interested in getting into photography by drone. The camera is pretty awesome (not as good as a GoPro though) but it's the fact that it is all ready to go and you can go ahead and get started right out of the box. It takes some great pictures and is super easy to fly. While it is expensive, this is definitely the way to go if you want ease of use and great functionality. As a recent update, Walkera came out with an answer to this drone in the form of the Walkera Scout X4. If you want to see how that stacks up check out our review here.
What do you think of the DJI Phantom 2 Vision Plus?
SOURCE: Personal Drones – Read entire story here.